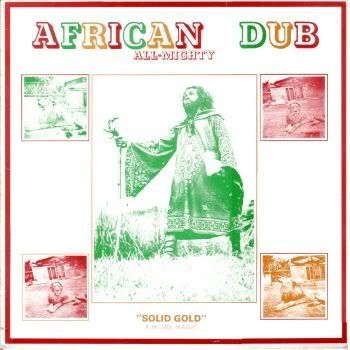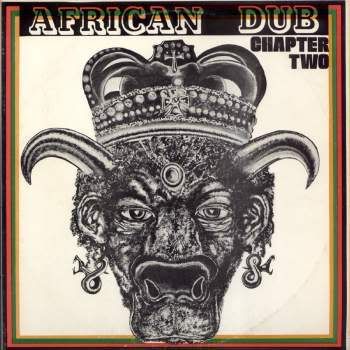 Joe Gibbs was one of Jamaica's most influential producers during the seventies and early eighties. His long-lasting relationship with the late sound engineer Errol Thompson, who had left Randy's Studio 17 prior to working with Joe Gibbs, resulted in producing well over one hundred #1 hit records. They became famously known as 'The Mighty Two'.
Dub versions of popular Jamaican songs started emerging in the late 60's. Eventually, studio engineers and producers such as King Tubby, Derrick Harriot, Clive Chin, Errol Thompson and Harry Mudie mixed and modified the dub tracks, occasionally using the voice as an additional instrument. The evolution of dub finally led to point were the dub tracks stood on their own. Consequently, full length dub albums began to appear, initially in small pressings with high prices. The "African Dub" series was instrumental in this popularization, making the UK charts in 1977.
This CD comprises the first two volumes of the "African Dub" series and features dub workouts of popular Joe Gibbs productions from the 70's, most of which are updated versions of classic Treasure Isle and Studio One riddims. African Dub and East Africa are both reworkings of 'Love Is Not A Gamble', originally recorded by The Techniques at Treasure Isle. Bob Andy's classic Studio One track 'Unchained' is used on Schooling The Beat and Third World, the latter being a slower version of the original. Three medlies are present here: Universal Dub is a medley of Burning Spear's 'Slavery Days', Jackie Mittoo's 'Hot Milk', and Ken Boothe's 'My Heart Is Gone', Midnight Movie includes 'I Don't Know Why' by Delroy Wilson, Errol Dunkley's 'Black Cinderella' and 'Drum Song' by the Studio One backing band the Sound Dimension, and Heavy Duty Dub is the last medley on the album and includes the Heptones' 'Pretty Looks', and two Alton Ellis tunes -'Mad Mad' and 'I'm Just A Guy'.
Angola Crisis is another Alton Ellis' remake, utilizing 'I'm Still In Love'. Joe Gibbs used this track on Trinity's 'Three Piece Suit' and Althea and Donna's chartbuster 'Uptown Top Ranking'. Vocalist Dennis Brown cut his most enduring tunes for Joe Gibbs. Here you'll find dub versions of 'My Kind' (Ghetto Skank), 'Poorer Side Of Town' (Lime Key Rock), 'Play Girl' (Lovers Serenade), and 'Let Me Live' (Campus Rock). The vocal versions can be found on Dennis Brown's compilation set 'The Best Of..Volume 2'. Crucial stuff! -Reggae-Vibes.com
Joe Gibbs - African Dub All-Mighty Chapters 1 & 2
Label: Crazy Joe Records
Record Date: 1975-76
Album Style: Dub, Lee Library, Reggae, Roots
Tracklist:
1. African Dub
2. Universal Dub
3. Midnight Movie
4. Ghetto Skank
5. Lime Key Rock
6. Lovers Serenade
7. Treasure Dub
8. Schooling The Beat
9. Campus Rock
10. Half Ounce
11. Worrier
12. East Africa
13. Chapter 2
14. The Marijuana Affair
15. Angola Crisis
16. Peeping Tom
17. Outrage
18. Idlers Rest
19. My Best Dub
20. Third World
21. Heavy Duty Dub
22. Musical Arena
23. Mackarus Serenade
24. Jamaican Grass
download pt1
download pt2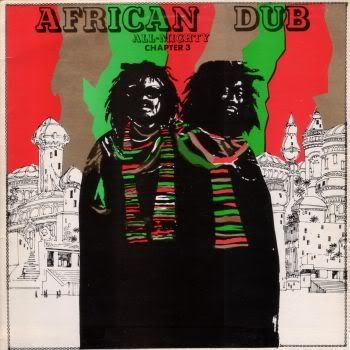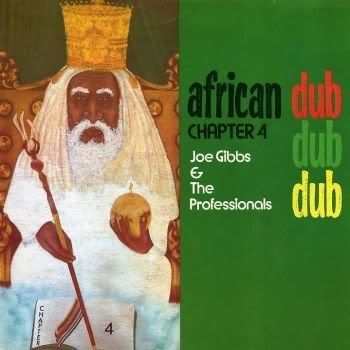 Chapter 3 and Chapter 4 of the "African Dub" series were released in 1978 and 1979. Chapter 3 was the most commercially successful of the series and genuinely brought the dub format to the ears of many listeners outside the reggae community. Part of the appeal was the broad use of bizarre sound effects such as ringing bells, buzzers, phones, whistling birds and shooting sounds. For some dub purists this distracted from the impact of some of the original riddims.
The musicians on all four "African Dub" albums included members of the Soul Syndicate and Lloyd Parks' We The People Band, working under Gibbs' conservative moniker, The Professionals. The main players were drummers Sly Dunbar, Carlton 'Santa' Davis, Leroy 'Horsemouth' Wallace and bassists Lloyd Parks, Robbie Shakespeare and George 'Fully' Fullwood, with guitar playing from Winston 'Bo Pee' Bowen, Earl 'Chinna' Smith and Tony Chin, on keyboards Franklin 'Bubbler' Waul and an impressive horns section featuring Junior 'Chico' Chin, Bobby Ellis, Dean Fraser, Vin 'Tommie' Gordon, Richard 'Dirty Harry' Hall, Tommy McCook and Ronald 'Nambo' Robinson.
As with the first two sets in the series, Chapters 3 and 4 reveal many rock steady and reggae riddims, originally cut at Treasure Isle and Studio One, updated to a late 70's rockers style. A few tracks are rockers originals, remixed from massive vocal attacks by artists like Dennis Brown (Jubilation Dub, Angolian Chant and Fashion One), and the Mighty Diamonds (Freedom Call). The opening track -Chapter Three- is a remake of the riddim used on Augustus Pablo's dub anthem 'Rockers Meet King Tubby's Uptown'. Studio One riddims found here include 'Ten To One' (Zion Gate), 'Rockfort Rock' (Dub Three), 'Swing Easy' (Crucial Attempt), 'No No No' (Behind Iron Bars), 'Fattie Fattie' (Iron Gate), and 'Drum Song' (Power Pack). Rhythm Attack is a remake of the Paragons' 'Danger In Your Eyes' from Studio One and is introduced by British journalist Snoopy, who was writing for Echoes at the time. Just as with the first two chapters of the "African Dub" series, these volumes are crucial and essential material! -Reggae-Vibes.com
Joe Gibbs - African Dub All-Mighty Chapters 3 & 4
Label: Crazy Joe Records
Record Date: 1978-79
Album Style: Dub, Lee Library, Reggae, Roots
Tracklist:
1. Chapter Three
2. Rema Dub
3. Tribesman Rockers
4. Freedom Call
5. Jubilation Dub
6. The Entebbe Affair
7. Angolian Chant
8. Zion Gate
9. Jungle Dub
10. Dub Three
11. Crucial Attempt
12. Behind Iron Bars
13. Ghetto Slum
14. Yard Music
15. Iron Gate
16. Power Pack
17. Free The Children
18. Fashion One
19. Rhythm Tackle
20. Sniper
download