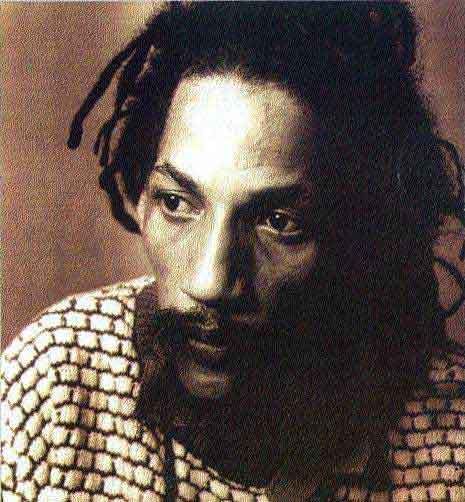 Born 1954, St. Andrew, Jamaica, Horace Swaby aka Augustus Pablo, often in ill health, not only was responsible for putting the melodica on the musical map, but he also played a key role in the musical history of Jamaica. In his role as musician and producer he has helped to shape reggae so much that his music can easily be described as 'the sound of the Seventies'.


The legend began in 1969 when a youthful Horace Swaby was standing in Herman Chin-Loy's 'Aquarius' record shop at 9 Constant Spring Road in Kingston, holding a melodica that had been lent to him by a young girl. The instrument was used in Jamaica in school music lessons but had never before been taken seriously by professional musicians. Herman Chin-Loy, who had a much-deserved reputation for experimenting with new sounds, asked the slightly-built teenager if he could play it and was so taken with the musical response that he booked recording time that same week at Randy's Studio 17 on North Parade in the heart of downtown Kingston. With a tune entitled "Iggy Iggy" Herman Chin-Loy gave the youth his recording debut and more significantly, a new name - AUGUSTUS PABLO - which was not strictly new itself as for the past few months Aquarius record labels had sporadically appeared bearing the credit Augustus Pablo.

Herman Chin-Loy had coined the name to add a measure of mystic to the identity of keyboard players. These recordings actually feature Lloyd Charmers or the Upsetters' organist Glen Adams. The seeds of what was to become the minor-key dominated "Far East" sound of the future Augustus Pablo/Rockers team were sown. The follow-up was another instrumental - the first cut of "East Of River Nile" - with Pablo alternating rudimentary but spooky solos on melodica and organ over a jagged riddim. At the age of eighteen Augustus Pablo had his first hit at Randy's for Clive Chin's 'Impact' imprint with "Java" and he soon established himself through his releases on his own "Hot Stuff" and legendary 'Rockers' label (so named because the records were promoted on his brother Garth's fledging Rockers Sound-system). Following the release of "Skanking Easy" - an update of the Studio One Soul Vendors' classic "Swing Easy" - Augustus Pablo was soon a leading light in the upcoming band of "rebel" artists and independent producers such as Lee "Scratch" Perry, Winston "Niney" Holness and Glen Brown who were to radically and irreversibly re-define the parameters of reggae music.
Augustus Pablo was constantly setting new standards, searching for new ideas. His productions, distinctive as they already were by his "Far Eastern" style of playing, became as individual by their arrangements as, say, Coxsone's or Upsetter's were by theirs. The way in which the riddims were mixed was also important to Pablo. In common with Vivian Jackson, Lee Perry, Bunny Lee and several others he employed King Tubby to mix his productions. King Tubby's studio has always made its own highly innovative mark on Pablo's music. It actually led to the release of an album that confirmed and spread both men's reputation : the 1976 released dub set "King Tubby Meets The Rockers Uptown".
Something else that Augustus Pablo had in his favour was an uncanny knack for picking on unlikely or unknown vocalists to sing or toast over his riddims, not only providing the public with good music but also the chance to hear what these people could do given the opportunity. Perhaps the most successful example of this is Jacob Miller, who under the influence of Pablo gave the reggae massive "Keep On Knocking", Each One Teach One" and "Who Say Jah No Dread". Dillinger is another artist whom Pablo captured at his best and Hugh Mundell and Tetrack - his most exciting discoveries to date - are now held in the highest esteem by reggae consumers. Other singers such as the Heptones, Locksley Castell, Ricky Grant, Delroy Williams and Norris Reid have also met with some fame on Pablo's unique riddims.
The singers with whom Augustus Pablo had his most fruitful associations were Junior Delgado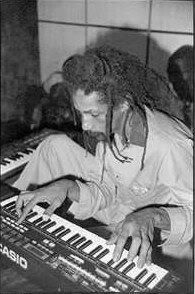 and Hugh Mundell. The latter was extremely young, barely in his teens, when he recorded for Pablo. His debut album "Africa Must Be Free By 1983" became a classic roots set and said much about the commitment that Pablo, as a producer, could inspire in even the most youthful of singers. Though Augustus Pablo's most consistent and creative period was over by the end of the Seventies, strong records have still continued to appear on "Rockers" and the newer "Message" label. The roughhouse spirit of the last two decades might not seem conducive to Pablo's laid-back approach, but he's issued good music by Junior Delgado, as well as Bunny Brissett, Yami Bolo, Spliffy Dan, cultural chatter Blacker T. and Johnny Osbourne. Regarding his own outings during this period, Pablo has not always been able to keep up the standard of his best work. However, just when the reggae cognoscenti were writing Pablo off, his reputation was restored with the 1990 released "Blowing In The Wind".

Augustus Pablo will be remembered as the somewhat frail-looking Rastaman, who made an amazing contribution to roots reggae both as a melodica/keyboards player and as a producer with an immediately recognizable style. In the hearts of his many worldwide fans he definitely will live on as "Augustus Pablo - The Original Rocker". ~reggae-vibes.com