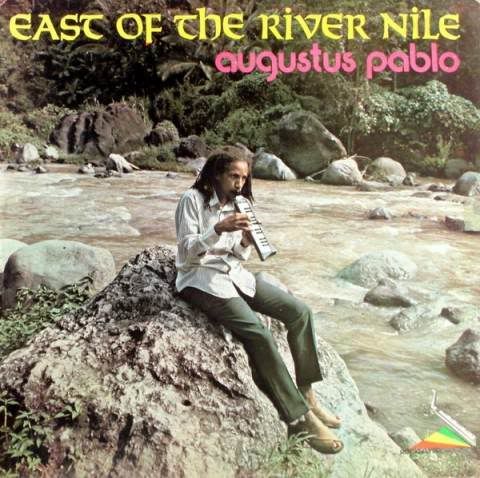 Augustus Pablo - East Of The River Nile (25th Anniversary Edition)
Label: Shanachie
Record date: 1977
Album style: Dub, Instrumentals, Lee Library, Reggae, Rockers, Roots
Notes: This is a
re-post
(click to view
PMX's excellent original write-up
), except that this is actually the special 25th anniversary edition of East Of The River Nile which includes 6 rare bonus tracks, including the never-before-on-CD original version of the title track, dubs of key album tracks and two other rare singles.
East Of The River Nile... I consider this to be the perfect introduction to Augustus Pablo. I first heard this album in 1979 and had to keep playing it over and over again. It's moody, it's tense, it's smooth and heavy. Just like its creator. The last time I worked with Pablo was in 1998. My last memory of Pablo was being in Ariwa studios with smoke so thick that we could not see the desk! This is not an instrumental album. this is not a dub album. This is something else, I am not sure what it was ahead of Its time In '79 and still sounds brilliant in 2002. Totally hypnotic! ~Neil Fraser [aka The Mad Professor]
Tracklist:
1. Chant to King Selassie I
2. Natural Way
3. Nature Dub
4. Upfull Living
5. Unfinished Melody
6. Jah Light
7. Memories of the Ghetto
8. Africa (1983)
9. East of the River Nile
10. Sounds from Levi
11. Chapter 2
12. Addis-A-Baba
13. East Africa*
14. East of the River Nile (original)*
15. Memories of the Ghetto Dub*
16. Jah Light Version*
17. Islington Rock*
18. Meditation Dub*
Producer: Augustus Pablo
Engineers: Ernest Hookim , Errol Thompson , Lee Perry , Prince Jammy , Sylvan Morris
Bass: Aston "Family Man" Barrett , Bagga , Clayton Downie , Robbie Shakespeare
Drums: Carlton Barrett , Max Edwards , Noel "Alfonso" Benbow
Guitar: Earl "Chinna" Smith
Melodica, Clavinet, Piano, Organ, Strings: Augustus Pablo
Percussion: Everton DaSilva
Studios: Harry J's, Channel One, King Tubby's, Black Ark
Give thanks to Jah-Malla band for playing on "Chant To King Selassie I" and "Natural Way"
Rastafari Iration: Give Thanks to King Selassie I for His Inspiration.
Psalm 150:
1. Praise ye, the Lord, Praise God in his Sanctuary, praise him in the firmament
2. Praise him for his mighty acts; praise him according to his excellent greatness
3. Praise him with the sound of the trumpet; praise him with the psaltery and harp
4. Praise him with the timbrel and dance; praise him with stringed instruments and organs
5. Praise him upon the loud cymbals; praise him upon the high-sounding cymbals
6. Let every thing that breath praise the Lord. Praise the Lord.
download
info