Sorry I'm really busy with a million things this week and probably most of next week, so I don't have any regular posts like I normally have on thursday/friday. But I did just recently finished a new mix. It's Dubstep, which is what I've been listening to alot lately. For those who don't know, Dubstep is sorta the latest genre craze in the UK and beyond - that sounds cheezy but it's for good reason. It combines the sounds of Dancehall, Reggae, Dub, Industrial, Metal, Breakbeat and elements of Jungle and it's such a relatively new format that it hasn't been completely exploited by the major labels yet. So its a very 'fresh' sound; there are more and more new and young Dubstep producers popping up daily it seems - and each one brings their own special mutation to the table. It's reminiscent to me of the energy of the original Jungle scene back in 1994 when everyone was experimenting with different sounds and tempos and production styles. So yeah - grab the mix and meditate on the bass. Lots and lots of bass.
The first four tracks are remixes of classic tunes you probably will recognize. The first of course is Moments in Love (1985), one of my favorite songs of all time. The second tune is 'Digits' which is a dubstep take on Kraftwerk's '
Numbers
' from 1981. The third tune is 'Creal' which is a relick of
Cybotron's
classic '
Clear
' from 1983. The fourth song is Loefah's 'It's Yours' which is an extremely deconstructed dubstep version of the classic T La Rock tune of the same name. Good stuff.
Style: Dubstep, Dub, Grime (Instrumental), Bass, Breaks, Space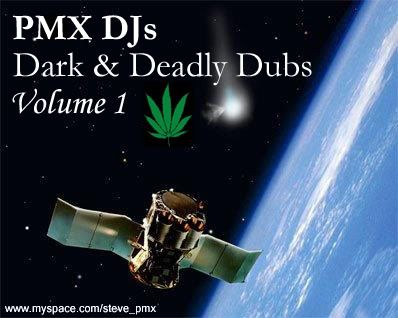 PMX DJs - Dark & Deadly Dubs - Volume 1
October 2007
1. Art of Noise - Moments in Love (Caspa Remix)
2. 6blocc - Digits
3. 6blocc - Creal
4. Loefah - It's Yours
5. Komonazmuk & White Boi - Search For Truth
6. Scanone - Atlas
7. Random Trio - Press Button (Cyrus Steppers Version)
8. Vista - Gameboy Dub
9. Digital Mystikz - 10 Dread Commandments
10. Fullness - Butterfish (Marlow Remix)
11. Djunya - Contact
12. Mala - Hunter
13. Afterdark - Cosa Nostra
14. Tes La Rok - Bass 31
15. Vista - Special Request
16. Dubchild - Lethal Riddim
Download [192k mp3]
Info