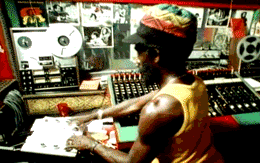 "
The Black Ark
The Black Ark was the
recording studio
of legendary
reggae
and
dub
producer
Lee "Scratch" Perry
, located in the yard of his family's home in the Washington Gardens neighborhood of
Kingston
,
Jamaica
. Although the studio itself was somewhat rudimentary in its set-up and particularly basic with regard to some of the dated equipment employed by Perry, it was nonetheless the breeding ground for some of Jamaica's (and arguably the world's) most innovative sounds and recording techniques in the latter half of the
1970s
.
Innovative musical techniques

An example of Lee Perry's inventive style was his ability to overdub layers of sound effects and instrumentation on each recording track of a basic
4-track
machine, with such precise timing and in such a way that the resulting sound would destroy the competition from Jamaica's other top producers using the latest
16-track
mixing consoles. Perry once buried
microphones
at the base of a palm tree and thumped it rhythmically to produce a mystifying bass drum effect; his drum booth at the Black Ark was for a time surrounded with
chicken wire
to further his distinctive sound; many of his songs are layered with a variety of subtle effects created from broken glass, ghastly sighs and screeches, crying babies, and a mooing cow children's toy. These and other notable recording techniques helped define the Black Ark sound, as well as Lee Perry's creative legacy.
Musicians and the Black Ark
In addition to providing pioneering sounds for such reggae stars as
Bob Marley and The Wailers
,
Junior Byles
, and
Max Romeo
, Lee Perry and his studio were formative in creating the highly innovative reggae sub-genre called
Dub
, in which the producer/engineer becomes the focus of the music, manipulating a pre-recorded track and creating something entirely new using his or her mixing console as nothing less than an instrument.
The end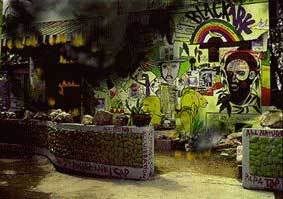 In
1979
, following years of increasingly bizarre and erratic behavior, Lee "Scratch" Perry allegedly set fire to The Black Ark studio, effectively ending an era during which much of Jamaica's most delightfully creative sounds had captured the world of music. However, it has been related by several Perry family members that the studio in fact caught fire in 1983 after an ill-fated attempt to rebuild it, the result of an electrical accident. More often than not, Perry has claimed that he personally destroyed the Black Ark due to "unclean spirits" - an allusion to some of the undesirable people who were constantly at the Black Ark in later years." -Wikipedia